Thanks to the author,
George Georgios
, for supplying a recording of his original cassette tape.  Originally recorded at 22khz and saved as 112kbps mono MP3 file, ouch.
Crazy Maze was written by George Georgiou in 1983 for the Dick Smith Super 80. It is a fast moving game where you move your man around a maze and collect $'s avoiding the roving tanks who will home in and kill you. You need to collected 10 $'s to advance to the next level and there are 9 levels in the game.
Unfortunately, the file in its original form would not load into the Super-80 MAME emulator, as expected.  It was then converted to 16bit WAV file, re-sampled at a higher frequency, noise filters applied, high & low frequency filters applied and was finally able to get an error free load. This was then saved out of MAME as a square wave form WAV file which guarantees an error free load. Thanks to 
Robert
 who then patched it to fix a couple problems :
- Fixed spelling mistakes in the instructions (obsticle -> obstacle)
- Changed screen number to fix compatibility with "super80m"
- Fixed the sound
- Changed the movement keys to the arrows (instructions not changed from A, Z, < & >)
In MAMEUI as Super-80 V2.2 use L to load then G0 (thats a zero not capital o) to run and it starts with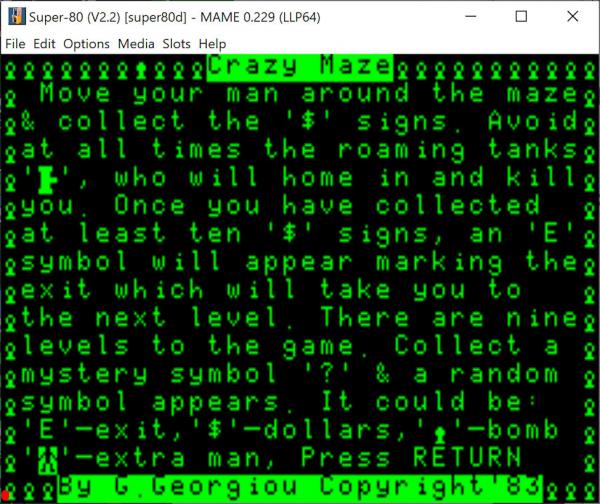 So in the Vintage Repository in the Super-80/Software/Tapes/Super80_d_e folder we placed
CrazyMaze_patched.wav
---------------------------
ChickenMan